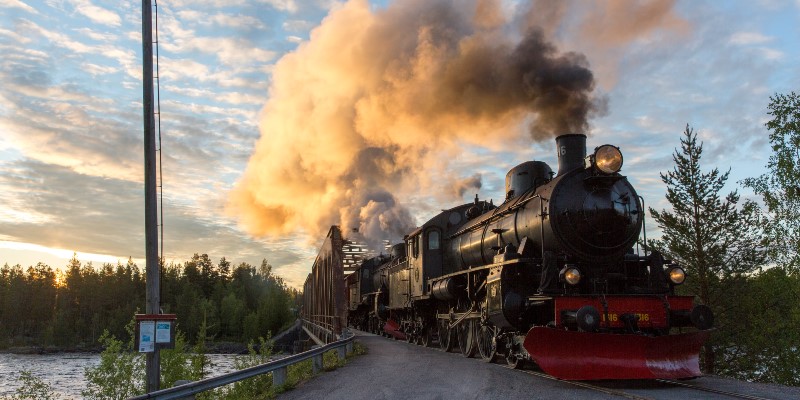 A unique and exclusive train journey from Stockholm through the Northern and Arctic regions of Sweden to Kiruna.
The period between winter and spring is by many seen as the best time of year in the Swedish Lapland. We travel through Sweden towards the approaching midnight light. Together with the Swedish Railway Museum, Inlandsbanan offers two unique and exclusive train journeys in 2021. The trips are made by classical trains with comfortable first-class carriages and first-class restaurant and bar on board. The locomotives will be driven by different energy sources along the way, even steam between Vilhelmina and Arvidsjaur.
Good food is an important part of the experience, and during the trip, several meals are served in the onboard restaurant. Often with spectacular views over a beautiful lake or on a bridge over one of the mighty Lapland rivers. At selected local restaurants we stop to eat the best the region has to offer. Full board and accommodation is included in both journeys.
Both journeys pass the Arctic Circle of course. We travel through a beautiful landscape, depending on the season covered by sparkling white snow, summer green or possibly towards autumn colors. In addition to an unforgettable journey through Sweden, we make stops along the way to experience the rich cultural offers of the country. We visit sights, sample delicacies and enjoy what Norrland and Lapland have to offer. Most of the time we travel on Inlandsbanan.
You travel comfortable and get a delightful combination of discovery and peace and quiet throughout the journey.
Welcome - you definitely don't want to miss these unique train trips!