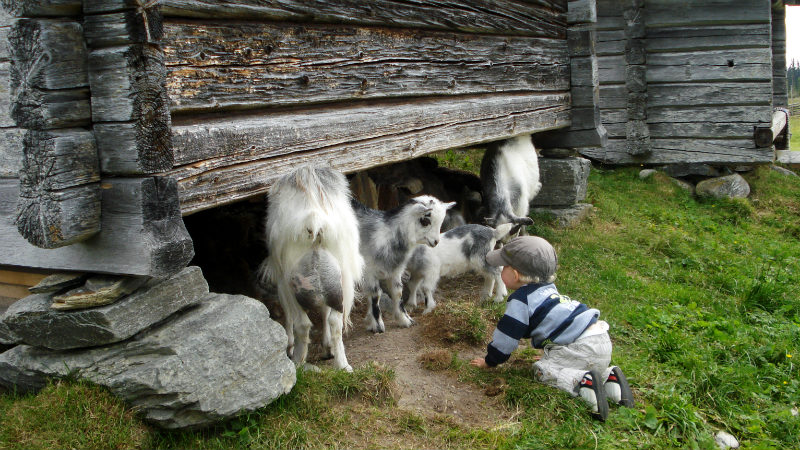 Berg municipality offers activities and experiences all year round.
Here you will find a fantastic mixture of genuine mountain areas, forests and the landscape around Lake Storsjön. The best known tourist areas are Ljungdalsfjällen, Gräftåvallen in Bydalsfjällen and Klövsjö-Storhogna in Destination Vemdalen. If you are interested in fishing, there are excellent waters with good and varied fishing, for instance Ljungan. Inlandsbanan stops at Röjan, Åsarna, Svenstavik and Hackås.
The southern abode of the Lake Storsjö Monster
There are several attractions within 10-20 km of Svenstavik. At Hoverberget you can explore the largest cleft cave in Sweden and wander along restored trails. From the top you can gaze out over the lake on the lookout for the Lake Storsjö Monster and take in the magnificent view stretching all the way to the mountains in Norway. Hovermo Farm and Industrial Museum is a goldmine for people interested in technology, but everyone can be sure of a sense of nostalgia when looking at what has been created and collected here for four generations. In Persåsen, nature, art and handicrafts take centre stage. The exhibitions include Nordic handicrafts, art exhibitions and of course furniture and items for decorative and everyday use.
Food and vistas in Klövsjö
A 15 minute bus trip takes you from Åsarna to the Jämtland mountains!
Klövsjö is located in breathtaking scenery and it is easy to understand why the village has been voted the most beautiful in Sweden. It is also heaven for those who enjoy locally produced food. Kullens Gårdsmejeri dairy produces various kinds of cheeses made from milk produced by the animals living in the area. Klövsjö Stenugnsbakeri bakes sourdough bread and makes cakes and pralines which can be enjoyed in the onsite cafe. Klövsjö Gårdsbryggeri, with its attached restaurant Humleliret, makes various kinds of beer. Don't forget to visit the local heritage museum Tomtan, which dates back to the 1700s.
HACKÅS
Take the opportunity to visit Hackås church, a very interesting medieval church with frescos of high historical value. The Jämtland-Norway pilgrim trail runs past the church. Today, there is a pilgrim centre here, as well as a steamboat museum and cafe. Strömbacka mill serves refreshments in the summer and is the venue for the popular, annual "Water Sprite of the Year" event. In Östnorbuan you can find a working summer pasture farm with animals, as well as refreshments.
GOLD, SWIMMING AND NATURE
Åsarna is a beautiful place to visit, with a good choice of places to stay and eat, a newly established roller skiing track and a ski museum. The name Gold Village stems from the many successes enjoyed by skiers from Åsarna sports club over the years. In Rätan there are beautiful sandy beaches, a temperate outdoor swimming pool and hiking trails through forests and along waterways. Around Röjan and Rätan there is the Sandnäsgrottan cave, Hammarede historic forest setting and the Klövsjö- Vemdalen golf course in Utanbergsvallarna, all surrounded by fantastic nature. Beyond the golf course there is Storhogna, which is a good starting point for easily accessible mountain hiking, with trails taking you to magnificent waterfalls, among other things.
HIGHLIGHTS!
Himmelriket (heaven) in Hackås. Himmelriket is located around Hackås church by the shore of lake Storsjön, with a view of the Oviksfjällen mountains. The church contains well-preserved murals from the 12th century, making it the oldest stone church in Norrland. In Himmelriket there is also a pilgrimage centre, a steamboat museum and a café.
For more information, see: www.berg.se/turism