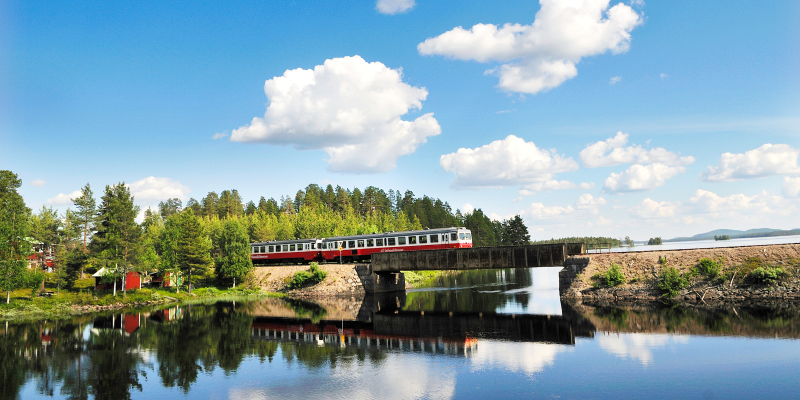 Inlandsbanan takes you on an adventure where you will discover the Swedish nature's variations from Gällivare in the north to Östersund and Mora in the south.
Experience the Swedish inland in a way you never did before - from the north to the south. Inlandsbanan takes you to a unique cultural environment with stops at our golden spots along the way. During the journey you will stay in Gällivare, Jokkmokk, Vilhelmina and Östersund, before finally arriving in Mora in the county of Dalecarlia the last day of your trip.
The train runs through landscapes with abundant wildlife, where Sweden's four big predators live: bear, wolf, lynx and wolverine. If you are lucky you may get a glimpse of them. There is also plenty of reindeer, elk and beautiful birds of prey along the tracks. During the trip, we will make a stop at the Arctic Circle.
Program in short
Day 1 - Arrival day Gällivare (tour starts with an overnight stay, individual arrival during the day)
Day 2 - Inlandsbanan Gällivare - Jokkmokk
Day 3 - Inlandsbanan Jokkmokk - Vilhelmina
Day 4 - Inlandsbanan Vilhelmina - Östersund
Day 5 - Östersund
Day 6 - Inlandsbanan Östersund - Mora
Our train hosts
Our committed train hosts will be on hand on your journey on the Inlandsbanan train. They will help you find your way around, take your food and coffee orders and deal with any practical requests as far as possible. The train hosts are knowledgeable and can tell you about places, sights and the scenery along the railway. They do not accompany you to your accommodation or on excursions, but they are always available on board the train.