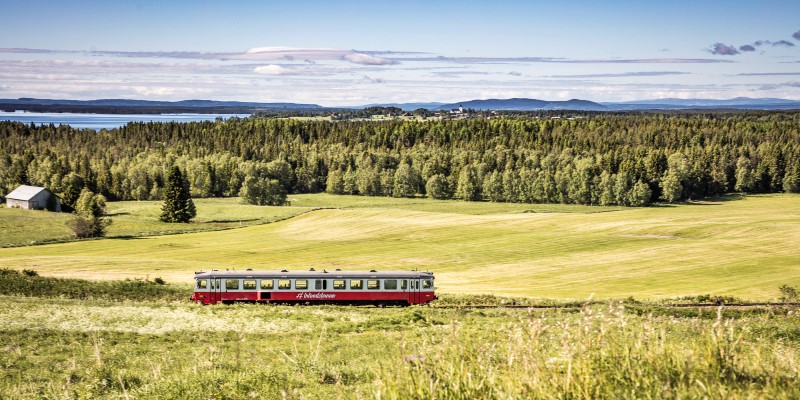 Inlandsbanan takes you to some of the most interesting places in the varied landscape of inland and arctic Sweden.
The journey begins in Mora and takes you all the way up to the magnificent Lapland wilderness with its salmon rivers and mountain tops covered in snow nearly the whole year round. On the way you will admire the Zorn paintings in Dalarna and visit the heritage museum Jamtli History Land next to Lake Storsjön.
The way north is lined with interesting places and sights. On the way you will pass the Arctic Circle and on arrival in Gällivare you will experience the breath-taking view from Mount Dundret. If travelling in June, up until 9 July, you will see the midnight sun, a real highlight.
Program in short
Start Kristinehamn: Day 1: Arrival Kristinehamn (if city of departure)
Day 2: Kristinehamn-Mora (after arrival Mora same program for both alternatives)
Start Mora:
Day 1: Arrival Mora (if city of departure)
Day 2: Mora-Östersund
Day 3: Full day Östersund
Day 4: Östersund-Arvidsjaur
Day 5: Arvidsjaur-Gällivare
Day 6: Full day Gällivare
Day 7: Gällivare-Vilhelmina
Day 8: Vilhelmina-Östersund
Day 9: Östersund - Mora - (Kristinehamn day 10 since start one day earlier)