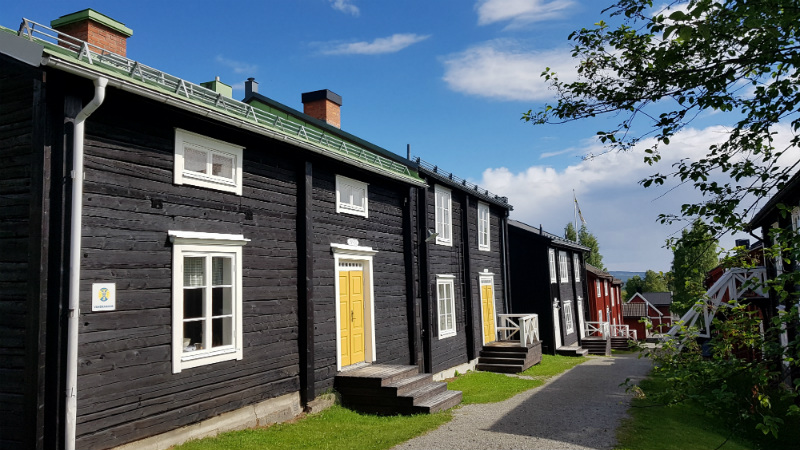 Vilhelmina in beautiful Lapland is a small, modern municipality that is close to everything. There is a rich outdoor and cultural life and a multitude of activities for body and soul. The heart of the community lies in the Church Town, just below the church, where the small wooden houses form a little oasis in the middle of the village. Here you can visit Lapplisa by the local heritage museum, see the largest Sami knife in the world in the Sami gallery, pick up some beautiful handicrafts and go shopping in the cosy little boutiques.
We look forward to welcoming you!
Read more about what to see and do at visitvilhelmina.se
WITH FEELING
Summer in Lapland is a season of long days and light nights. There is time to do things, time to create memories for life. Come along on a city walk, have a look in one of the church cottages and get to know our history. Then let one of our fantastic guides take you on a mountain top trip, a helicopter pick-up or a wilderness safari. You can also go on a discovery trip on your own. Hire a bike or a pedalo, take a picnic basket and enjoy being close to nature. Next to the church there is a lovely little Sami site and a fairytale trail which allow you to get acquainted with our Sami culture. You're welcome to visit the Tourist Information Office, right in the centre of town, for more tips and help with activities and transport. They will be happy to help you!
CLOSE TO THE WILDERNESS
The Sagavägen fairytale trail and the Vildmarksvägen wilderness trail take you up to our two beautiful mountain valleys. Here you can listen to the mighty Trappstegsforsen waterfall, and feel the history among the 80 wooden tepees in Fatmomakke, the Sami meeting place since time immemorial. Experience the feeling of being at one with nature and enjoy the view for miles around from Stekenjokk. Sagavägen has tempting activities around Dikanäs and Kittelfjäll. Visit the land of Kaanan in Matsdal and rediscover old cultural treasures along the many fairytale trails that run alongside this enchanting road towards Norway.
The wilderness is all around you, it surrounds you and a journey through our landscape is guaranteed to give you a taste for more.
APPETISERS
Natural raw ingredients and award-winning artisan food – this is how we describe our best appetisers. Here you will find not just one, but several local food producers who serve up world-class food. Enjoy crowberry juice, hot smoked peppercorn salmon, cloudberry jam, flatbread and smoked reindeer heart. Then imagine a piece of dark chocolate praline for dessert. Select your favourites from traditional Swedish dishes, Norrland delicacies and locally produced food with an Italian feel. There is plenty to tempt you!