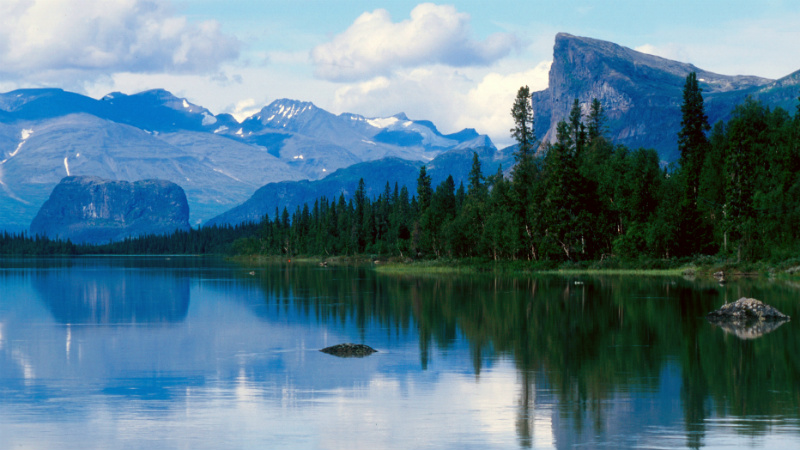 Jokkmokk municipality is located right on the arctic circle. Here you can experience both the midnight sun and polar nights with northern lights. Jokkmokk Winter Market is a tradition dating back more than 400 years, and visitors come from near and far to meet up, shop and eat good food. Jokkmokk is an exotic meeting place in the middle of Swedish Lapland, known for its culture, wilderness and beauty.
CULINARY NATION CAPITAL OF THE YEAR
A combination of traditional food culture with Sami overtones, innovation and inspiration from international cuisine has brought Jokkmokk the accolade Culinary Nation Capital of the Year 2014! This is a title awarded to different regions each year by the Ministry for Rural Affairs. We celebrate our food creators who strive to serve local, good-quality ingredients. Try reindeer meat, game, berries, herbs and fish which come straight from our forests and mountains to the table. We also produce cheese and yoghurt with milk from mountain cows. If you are interested in learning more about our cooking, this too is an option. You definitely need to make time for a visit to Jokkmokk just for the food.
EXCURSION TO VUOLLERIM
Make time for a visit to Vuollerim, a vibrant area with genuine experiences and activities by the Arctic Circle. A number of activities are available throughout the year, such as horse riding in the light of the Midnight Sun, fishing in fisheries with disabled access, Sami experiences, dinner with local people, archaeological experiences, a cloudberry feasting and much more. Accommodation options include Hotel Vuollerim Gästgiveri. Lapland Vuollerim, which arranges most of the activities, have received recognition and several awards, for instance at the Wilderness Fair, for their hospitality and the good quality of the activities.
ÁJTTE, SWEDISH MOUNTAIN AND SAMI MUSEUM.
Ájtte is the main museum for Sami culture in Sweden and provides information on the culture and natural landscape of the mountains. The exhibition themes includes settler life, clothes and silver, Laponia, and survival skills. The museum shop is also slightly out of the ordinary. Make sure you visit the section that does most to bring the mountain landscape to life, that is, the alpine garden. You will find Ájtte Alpine Garden by Lake Talvatissjön, a few hundred metres from the museum. In a small area you will see mountain tops, south-facing slopes and flora and fauna of the kind you would find in the real mountain landscape. The highly knowledgeable staff are happy to talk about the plants to be found in the mountains.
BEAUTIFUL PLAINS
Visit the World Heritage Site Laponia with its unique nature and vibrant Sami culture. Laponia comprises four large national parks such as Sarek, Padjelanta, Stora Sjöfallet and Muddus. Experience the magnificent natural landscape and the eight seasons that all reflect different phenomena. Enjoy the fresh air and clear drinking water straight from the streams, cold springs and mountain lakes. Experienced guides are on hand to accompany you if you wish. Or why not take a helicopter excursion. Take your tent, stay the night at simple overnight shelters or check in to Stora Sjöfallet, where a hot dinner will be waiting for you. There are many options; in the mountains there is something for everyone.
Read more about acitivites in Jokkmokk at destinationjokkmokk.se