Dorotea is often called the "Southern Gateway to Lapland"
With an area of 2,949 square kilometres, there is plenty of room here for things to see and do. There are activities for visitors interested in animals and nature, art, history or culture. A good tip is to hire a car and take time to discover Dorotea and the small surrounding villages. There is something here for everyone, whether big or small. Take the children on an outing to one of the swimming beaches in the municipality and enjoy the surrounding scenery.
Read more about what to see and do in Dorotea at the homepages of South Lapland and Dorotea kommun
Nature Adventures
For those of a more adventurous nature, there are good opportunities for trying some outdoor activities in the magnificent natural landscape in Dorotea. Take your friends or family hiking in the mountains, go canoe paddling, riding, or paintballing or come along on a wilderness safari. Gazing up at the majestic Borgahällan in Borgafjäll mountain with its 800 metre vertical drop is an unforgettable experience. Fishing here is also an experience out of the ordinary, with 16 fisheries management areas and an abundance of different fish species in waters ranging from peaceful turns to rushing rapids and rivers and lakes of all sizes. We attract both hardcore fishermen and anglers looking for a quiet, peaceful spot for a moment's fishing.
Kullerbacken Open Air Museum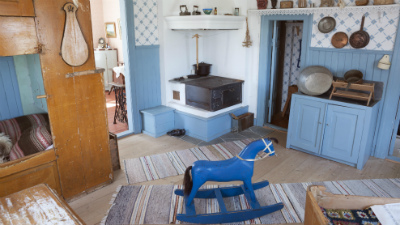 When you walk between the different buildings in the open air museum you get a sense of days gone by in different historical periods in Dorotea. Inside the buildings there are interesting displays that give
you an insight into how people lived in the past, and you can smell the newly baked flatbread and discover what it was like working in the bakery. Many Dorotea residents traditionally get together to celebrate Midsummer's Eve on Kullerbacken.
SWEDENS'S ONLY CARAVAN MUSEUM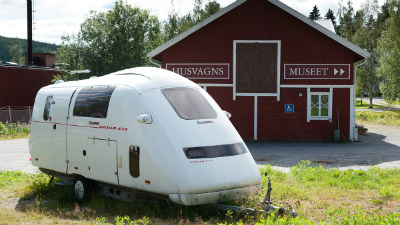 If you want to see something different, you must visit the Caravan Museum in central Dorotea by European route 45, opposite the factory where SoliferPolar produces its caravans. Here you can see how the caravans have evolved over the decades. Polar was established in 1964 and did celebrate its 50th anniversary in 2014.
UNIQUE WORKS OF ART
In Dorotea you will find 4 of the 13 works of art which form part of "Art Route Seven Rivers", which stretches from the east coast to the mountains in the west. All works of art are located outdoors and create a unique ambience through the mixture of art with nature. The municipality also has several pleasant little handicrafts shops and farm shops which must not be missed.