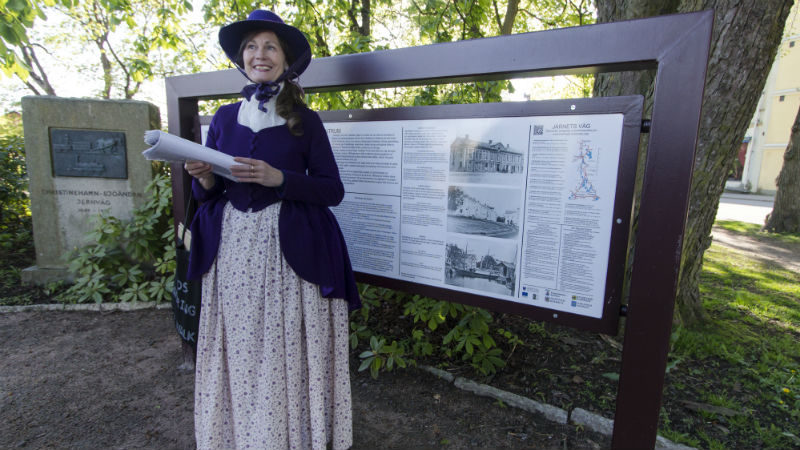 We are proud to present the gem Kristinehamn. Stroll along the charming street Trädgårdsgatan that dates back to the 17th century and enjoy the waters of Lake Vänern. Dotted with thousands of islands and skerries, it is Europe's largest freshwater archipelago. Here awaits adventure, to tempt both young and old, all year round. Climb aboard a ferry that takes you from the town centre out to the archipelago. You can try island-hopping, go on the historical vessel Christine af Bro or take the ferry to Karlstad.
If you are a more active visitor and are interested in both culture and nature, you can walk along the historical Iron Trail, with roots in the 16th century. Three popular family activities are the Pirate Trip to find Captain One Eye's treasure, beating the water chute record at the Sannabadet public baths and experiencing the thrill of a double go-cart at Värmland's Go-cart Center. There's lots to choose from in the way of art and culture. Visit Pablo Picasso's monumetal sculpture on the beuautiful shore of Lake Vänern, enjoy a century-old environment at Ölme General Store or the exhibition at the Kristinehamn Art Museum!
Discover a place that ties together history with present times; a place where famous people, such as Queen Kristina and the artist Pablo Picasso, have made lasting impressions.
Glittering Lake Vänern
Welcome to Lake Vänern, the glittering inland sea! 1,294 islands and islets lie along the horizon just waiting to be discovered, your rucksack is packed, your lifejacket is on and it is time to go. All ages love it here. Discover a beautiful unspoiled environment surrounded by water so clear and clean. Take the chance and go island hopping in Lake Värnen's archipelago.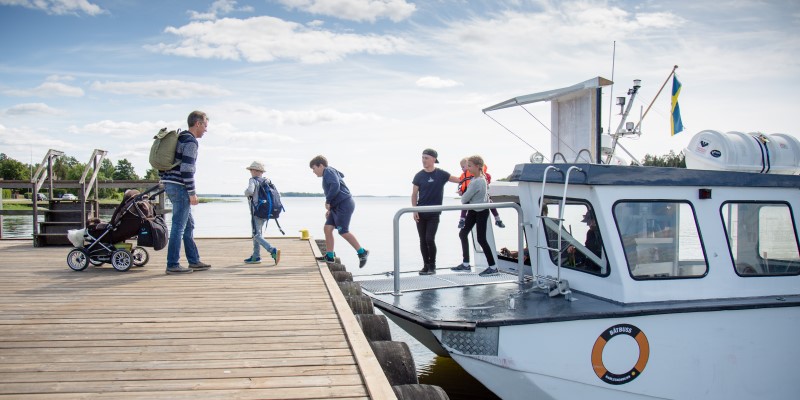 Guided historical walk
During the 18th and 19th century, Kristinehamn was equally important to the world economy as Wall Street in New York is today. In fact at that time the worldwide price of iron was set right here in Kristinehamn.
Join Mrs Nordenfeldt on a city walk back to its heyday. Click the link to read more about the city walk.
Ölme Diversehandel & Kafé
The old general store Ölme diversehandel is a museum that takes you back to the time you had almost forgotten about, or maybe never experienced. Back to a time when flour was not delivered to the store ready packaged and sugar didn't come in cubes; when ice cream machines were not automatic and coffee beans had to be ground manually. The store has been around since the mid-19th century.
In Ölme diversehandel you can find everything from football shoes to toys, and groceries such as flour, cacao, washing powder, herbs, and coffee, with their original contents and packaging. You can, of course, shop in the store for gifts including pretty serviettes, gifts, tins and baskets, as well as linen goods. The café always serves freshly brewed coffee and tea, sandwiches, biscuits, cakes and they are fully licensed. From the outdoor seating area, you can listen to the soothing sound of Carl Nesjar´s fountain. Travel back in time, visit Ölme Diversehandel & Kafé.
Sculptures Picassoskulpturen – Jacqueline
The 15 m high sculpture was inaugurated on Midsummer's Eve 1965 by the Swedish poet Bo Setterlind. The Picasso sculpture in Kristinehamn is one of Picasso's biggest works of art. It is Kristinehamn's most famous "celebrity" and the peninsula on which it is placed is the town's most frequently visited location. Housed in a small building close by. Photographs and plans illustrate the process involved when the Picasso sculpture was constructed in Kristinehamn.
Krukmakeriet Hemjord
Shop & café in old-fashioned surroundings. You can also get a snack here, enjoy homemade organic ice cream or a variety of pastries. Click the link to read more about Krukmakeriet Hemjord.
Sockerslottet
Chocolate shop located in a former church. Artisan chocolate bon bons and other sweet treats. Cake decorating classes. Welcome to Sockerslottet!
More information:
www.visitkristinehamn.se